AAIU and Pallisa Local Government commemorates belated Day of the African Child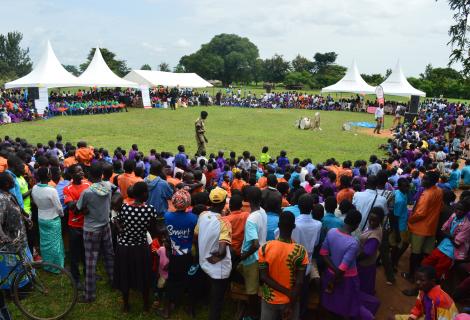 News story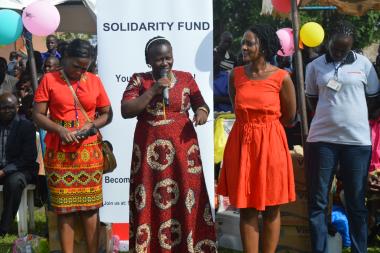 AAIU and Pallisa Local Government commemorates belated Day of the African Child 
Joyce Amuron, Communications Intern
PALLISA - The Day of the African Child under the theme Humanitarian Action: Children's rights first.  It was commemorated on 26th June 2019 at Akuoro primary school, Gogonyo subcounty, Pallisa district. The day is in memory of the African children who were killed in South Africa on 16th June 1976. This day was centred on children and their rights for example, right to survival, shelter and care, education, protection from sexual abuse, leisure and participation in decision making. 
The event was graced by the district dignitaries including the chief guest Mr Kyeyune Ssenyonjo the Residence District Commissioner, the Acting Education Officer Ms Lukendo Agnes, Local Council Five Chairperson Mr Okurut John Micheal and the Deputy CAO Mr Kikwaya Alexander among others. The AAIU Team that comprised of Pallisa Cluster Local Rights Programme Staff, Fundraising Staff and Partners was headed by Ms Harriet Robbinah Gimbo, AAIU's Director of Programmes and Policy.
Speaker after speaker, there was a unison call to uphold the rights of children. The Local Council III Chairperson of Gogonyo Subcounty, Mr Okoyo Yosamu in his speech appreciated AAIU for fighting GBV and promoting children children's rights. 
"I would like to appreciate AAIU for this event especially here in Gogonyo and also recognize the work of GBV shelter in the fighting GBV and promoting children rights" he said. Mr Okoyo also called upon parents to work toward improving their livelihood to educate their children.
The Ag. Education Officer Ms Lukendo Agnes, condemned child discrimination in education.
"children have a right to non-discrimination, for example, schools and homes must not discriminate in provision basing on sex. We are not supposed to discriminate in providing them with the necessities looking at religion, ability, ethnicity or any other status. They have a right to free and compulsory education, our children have no charges direct or indirect on our universal primary education schools" she said adding that,
"our children are expected to stay in school which is violent free we do not expect corporal punishments and child labour to our children, violent free homes where parents are not fighting and quarrelling, parents always include your children in decision making".
The Deputy Chief Administrative Officer, Mr Kikwaya Alexander, emphasized that,
"the children have a right to survival they are entitled to good life, they must be healthy and must be given food, this is not under compromise and if any of us fails to execute it he or she is punishable by the law. Children have a right to development where the children are supposed to be given education" he said. 
He added,
"if you are above five years we expect you to be at school not at home looking for firewood or looking after cattle, children must not be exploited like through child labour working in homes as house girls while parents wait for money and children should not be taken to streets begging for money for their families".
The chief guest, Mr Kyeyune Ssenyonjo, started by embracing children and calling them chief guests because it's their day and they are the future of the family and country. He referred the teachers to Article 35 of the constitution which spells out all the rights of the children. He decried defilement in Pallisa, and he strongly called upon parents to stop this vice.
"I have found a very terrible crime committed against children in Pallisa and this crime is defilement and both the parents and criminal are responsible. When a girl is defiled a parent thinks that this is an opportunity to get cows, money, land, etc. Stop trading in these girls and endangering the girl's life, we must come together and fight defilement" he said adding that, 
"very soon I will be directing the arrest of any parent who is negotiating defilement cases in police and court because I have all the list of those parents" he affirmed.
Mr Kyeyune called upon all the teachers and parents to plant fruit trees in schools and homes respectively. He said that if I ever visit your school, you must arrange to plant ten fruit trees in school and today we are going to plant ten trees.
The day was choreographed by training the girls on how to make reusable sanitary pads with local materials, interesting performance from different schools with clear messages in line with the rights of children.