AAIU conducts project review with beneficiaries to establish progress made towards greater accountability and equitable distribution of resources in communities.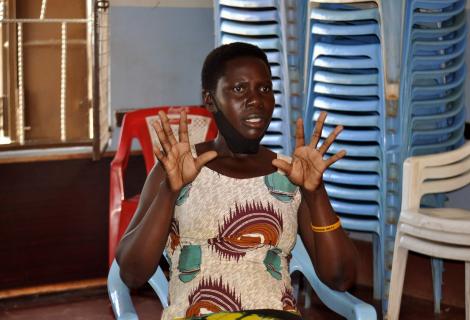 AAIU with support democratic governance facility is implementing a three-year project 2018-2021. The project is currently in it is final year and a monitoring was conducted by the project team to establish progress made towards outcomes on informed and active citizenry as well as responsiveness of government toward improved gender responsive public service delivery.
During the monitoring visits in Kumi, Katakwi, Nwoya and Amuru, the team conducted focus group discussions with project beneficiaries to establish the progress made and relevance of the project in the intended communities.
From the discussions, communities expressed that the project has built their capacity and confidence to demand for improved quality public services for instance in Katakwi one of community monitors noted that " Kapujan subcounty leaders never used to engage community members in planning and budgeting for priorities, when we invited them in people created spaces to present our challenges, they never turned up. We stormed the subcounty and locked their offices and demand that they attend to our demands. From then, they started engaging us in the planning and budgeting processes and from 2019 were captured."
They also noted improvement and shifts in the redistribution of resources in the health and education sector in the project target.
In Amuru, the community monitors noted that from their engagement's on accountability, there has been notable increase in the revenue mobilization for the district that was facilitated through alternative revenue streams such as levies on charcoal burning "these revenue alternative revenue streams were generated with engagements supported by ActionAid" as mentioned by Simon a community monitor.
In all the districts, activists noted improved responsiveness of Local Governments to key issues that were raised during the various engagements. Many young people noted that the project has influenced their participation in the current elections to get increased representation in the decision-making structures.
However, it was said that due to gender dynamics, there are still challenges for women participation as a result of unpaid care work and burden of domestic responsibilities. This scenario is still hindering women participation in democratic processes and women representation in key decision-making spaces thus widening the gender equality gaps.
To address gender inequality gaps, AAIU focuses on women and young people in its overreaching programming to analyze and confront unequal power relations. However, to attain social norm change, it calls for a holistic approach of all stakeholders to address the structural challenges that affect women. We shall therefore continue to network and collaborate with partners and other stakeholders to challenge gender inequality and achieve social justice for all women.