The Black Monday Movement is back !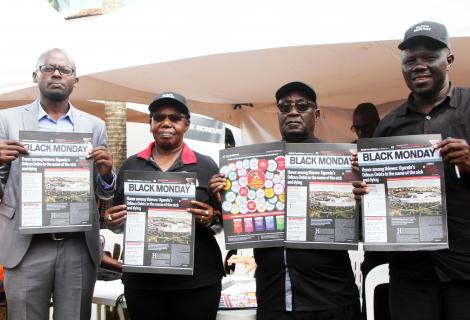 Citizens' Protest against corruption relaunched
Leaders of civil society organizations, youth and religious leaders gathered at the ActionAid International Uganda offices in Kampala on 16th December 2019 to relaunch the Black Monday campaign; a citizens' protest against the sky rocketing corruption in the country.
Speaking at the launch, ActionAid Uganda country director Xavier Ejoyi called on citizens to get annoyed and take decisive action against corruption.
Kitanga Parish Priest Reverend father Gaetano Batanyenda who read the press statement on behalf of all the stakeholders implored citizens to stop the passive attitude and take the corrupt head on.
He interpreted the recent ant icorruption walk led by the president as a sign of surrender from the president who he says has the principal duty to fight and not walk against corruption. "What do you think the walk meant? It is clear that the president has thrown the fight against corruption back to the citizens who should take it up".