PYIP Coalition speaks out on Electoral violence.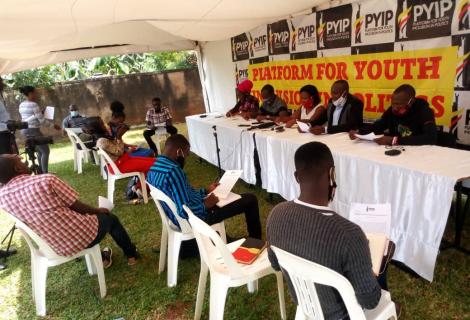 Young people denounce election violence and condemn security forces the raid on the NUP Offices.
Youth leaders under the Platform for Youth Inclusion in Politics (PYIP) called upon the government, international community, and the public to condemn all acts of violence ahead of the 2021 general elections. 

This press conference was held following the raid and attack by security forces at the National Unity Platform Party (NUP) offices in an operation they said, was to confiscate all clothing that are patented to and for UPDF.
According to the the NUP party president, Hon. Robert Kyagulanyi, in addition to clothing, the forces also took the signed nomination forms for NUP party members vying for the parliamentary sits, as well as UGX23m (Twenty-Three Million shillings) which had been collected to facilitate nomination fees for their parliamentary candidates without any charge. 

In addition to the above, over 40 young people affiliated to political parties and others not involved, were arrested 
Addressing the media, member organizations of the PYIP demanded that Government, security agencies and electoral commission immediately release all arrested parties and return confiscated campaign materials, investigate all officers involved in the raids, discuss and harmonize the electoral rules of scientific campaigns and implement them among all political actors, respectively.
The coalition also pledged to work with legal aid institutions to ensure that all matters that bring about political unrest are supported, urging political parties and actors in Uganda to document and report any arbitrary arrests, harassment, detentions and confiscated party resources for legal redress.

The Platform for Youth Inclusion in Politics (PYIP) is a nonpartisan coalition of Civil Society Organizations that seek to advocate for policies and inclusive legislative processes that will enable Uganda and the region at large to reap the fruits of the marginalized demography of young people.

It comprises of organizations like; Faraja Africa Foundation, Action Aid Uganda, Open Space Centre/YCED, Advance Africa Foundation, Youth Coalition for Electoral Democracy, Uganda Youth Network/YCED, ACDEG Youth Chapter, You Lead Uganda Chapter, ,among others. 

One of the goals of the PYIP is to unify resources, voices, and opportunities for young people to engage in the electoral-democracy processes actively and effectively in the country.