ActionAid Hands Over Construction Site for Digital Youth Hub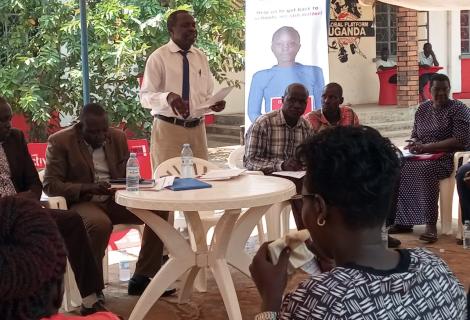 The site handover for the construction of a digital youth hub was held on 31st Jan 2023 at the Global Platform Physical space in Apac- Northern Uganda.
The site was handed over to Brooks Engineering Works Ltd by the Resident District Commissioner of Apac, Mr Abudul George who thanked ActionAid for such great innovation and development. "As central government this is what we have always aspired to see from development partners. This is where we are supposed to go, to shape the minds of young people and build their capacity," said the Abdul.
Among other dignitaries present were the Chief Administrative Officer- Mr Geoffrey Okaka, the LCV Vice Chairperson Mr Jaspher Odong, Tonny Odongo, the District Speaker, Municipal Dep Mayor and the District Engineer.
The representatives of the young people were happy and pledged to utilize the space for learning and innovations. "As young people we are so delighted to welcome this long-awaited digital hub that will give us quick access to resourceful information, explore our creative, innovative and informative world," said Jeremiah in his poem.
The construction of the digital hub will support young people with digital training that will enhance their skills for research, connectivity, advocacy, and campaigns against social injustices in their communities.
The Northern Regional Program Coordinator of ActionAid, Ms Sheila Apiny urged the district to support in monitoring and supervision of the construction. She highlighted on key policy areas to be adhered to by all stakeholders involved. Among them is zero tolerance to corruption and safeguarding against sexual harassment, exploitation and abuse.
The construction is anticipated to start on 6th Feb 2023 and will last for a period of three months.
Compiled by: Akullu Grace Regina
Global Platform Uganda-Learning and Impact Coordinator