THE WALK OF CITIZEN ACTION TOWARDS IMPROVED PUBLIC SERVICE DELIVERY- An internal reflection.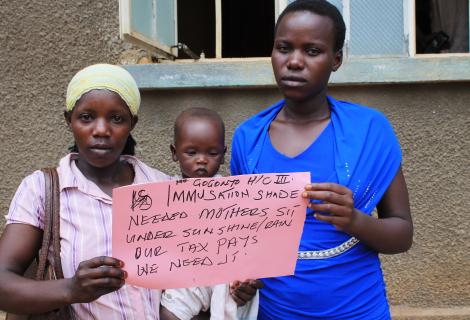 by Shiba Namulindwa
In 2018 January, ActionAid International Uganda launched its strategic paper Five dubbed "Strengthening struggles for Social Justice" with an ultimate purpose of achieving a just, equitable and sustainable World in which every person enjoys the right to a life of dignity, freedom from poverty and all forms of oppression.
To achieve our goals, our walk has been citizen centered to shift negative power in all its forms including visible and expose invisible and hidden power that deprive those living in extreme poverty from accessing opportunities and enjoying their inherent rights.
In May 2018, AAU received funding from democratic governance facility which has been central in citizen empowerment to engage on governance and accountability issues across the country in Bunyoro, west Nile, northern and Eastern Uganda.
Using our human rights-based approach, AAU has supported citizens realize that they have inherent rights to enjoy and the ability to demand for those rights. This was done through citizens conscientization initiatives for instance we trained and mentored 972 community monitors, activista, community members and community journalists on social accountability tools which included community scorecard, social audits, and linkages with governance.
Our focus has been deepening our rootedness, relations with poor communities and citizen's groups and further integrate with and working with social movements for change.
Using this approach, we have worked with 1,637 community volunteers who monitored, documented, and identified service delivery cases and accountability. These were also trained on gender responsive public service delivery and their advocacy was focused on rights, redistribution and enhancing on community resilience to engage on issues that affected them. As a result, over 100 citizen led public service delivery assessment processes were conducted facilitated by citizen action project on critical sectors such as health, education, and agriculture. The information collected with citizen input from these processes informed advocacy dialogues with duty bearers where 50,278 people (12,619 females)-May-2018-june 2020 participated to influence decisions towards greater accountability and  over 96 cases of service delivery with input from citizens taken on board  by elected representatives and addressed. Citizen engagements  enabled over 1,000,000 women, children and women access pro-gender quality public service delivery and improvement in in availability, accessibility, and inclusion for public service delivery in the districts of Pallisa, Kibuku, Kumi, Bukedea, Agogo, Pader, nebbi, Pakwach, Hoima, Buliisa, Masindi, Gulu, Amuru and Nwoya .
Citizen collective actions in our areas of operation have realized a shift in negative power and strengthened positive power through redistribution of resources to meet both practical and strategic needs of the poor for instance responsiveness of local governments towards addressing identified Public service delivery gaps was achieved; there is notable improvement in  the quality, quantity of and accountability  in public services. Some of the notable examples where citizen actions influenced decisions towards improved public services  include but not limited to;   improved infrastructure in the Education sector in different districts- like construction of separate 5 stance  pit latrines for boys and girls in Apopongo, Najenniti, Nkungoro, Ajepet, Akuoro, Akisim II, Gogonyo P/S (Pallisa); Midiri, Kasasira, Nankodo P/S (Kibuku); Andibo P/S (pakwach); 3 stance pit latrine at Tokor P/S (Kumi district); 2 stance pit latrine at kibambura P/S (Buliisa) ; renovation of class room blocks at Gogonyo P/S-ugx35m, Akisim II P/S ugx35m (Pallisa); construction of a borehole at Kasongoire HCII (Budogo s/c Masindi), construction of  a maternity unit at Kidongole HCIII (Bukedea); construction of a two classroom block at Tokor and Kanyaga P/S worth ugx110m(Kumi); recruitment of 31 teachers in Kibuku district which reduced ratios from 1:100 to 1: 70 in schools that benefitted; supply of desks of desks in most schools of the project locations in Katakwi, Amuru, Pader, Masindi, Hoima, Nwoya, Pallisa,  Buliisa among others ;
Health Sector-Commenced phased construction of general ward at Rweta B HCIII and  construction of an immunization shade at Obutet HCIII to save mothers from scorching sun during the exercise (Pallisa) ; Installation of solar power at Gogonyo HCIII, Buseta HCIII,  Kasasira HCIII (Pallisa),  and Ongom HCIII (Pader) that facilitated midwives to effectively deliver mothers at night, these initially were using torches, installation of biometric machines in Pallisa district health facilities to monitor staff attendance which addressed the problem of abseentism by health workers with improved attendance recorded from 52% to 95%, procurement of ultra sound equipment for Pallisa district hospital which had taken 8 years and denied pregnant women access to scanning services;  and fencing of Kijujumbwa HCIII (Masindi), recruitment of two doctors for Pakwach HCIV: construction of a maternity ward in Palam HCII to address the distance moved by mothers (5kms) to the nearest HCIII in Ngariam subcounty; renovation of dilapidated outpatient dispensary in Akurao HCII (katakwi); upgrading of  opeta HCII to HCIII Pallisa), procurement of a mowing machine for Gogonyo HCIII (Pallisa) that iproved general sanitation of the facilty ; Two health workers were recruited in Magoro health center III, after a community scorecard that revealed an average (46%) for staff ratios  which affected the quality of services delivered, the district leadership through DHO recruited  two health workers (one midwife and Clinical Officer) which boosted the staffing levels of the facility to 62%. These are some of the tangible results achieved from empowering citizen actons.
AAU will continue to work with local people to shift decision making power and enhance accountability of those holding power, support citizen struggles for social justice, equity, and poverty eradication.