AAIU creates safe spaces to catalyze and nurture feminist and transformational leadership..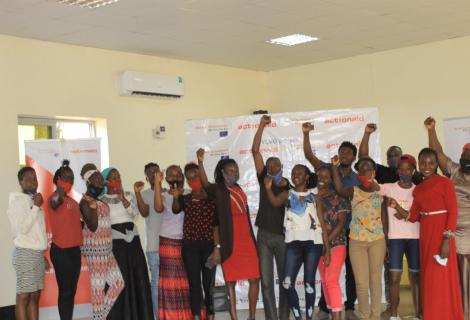 Story of 23 year old Yazid Razia.
The start of 2021 saw AAIU, through the Global Platform Uganda, commence workshops with young feminist volunteers in the various regions of the country. These trainings aimed to create a safe space for catalyzing and nurturing feminist and transformational leaders to advance gender equality and young women's empowerment in Refugee Settlements.
Under the Youth Led Volunteering in Local Level Response (YLVO) project, Global platform Uganda implemented workshops in Kiryandongo refugee settlement, and this brought together young feminists who shared key learnings from their leadership training and volunteer experiences.
Youth Led Volunteering in Local Level Response (YLVO) is an EU AID Volunteer program focusing exclusively on resilience, early warning, and disaster preparedness. With funding from European Union.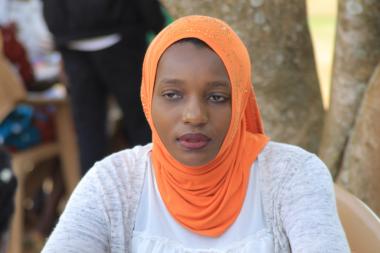 Yazid Razia (23) is a young feminist student from the Kiryandondo refugee settlement. The opportunity to attend the YLVO/Stepdown training marked a fresh advocacy journey for her. It was different from all the other training she has been a part of before.
This training session, which was focused on the politics of the body, Gender-Based Violence, Feminism, Leadership, Digital Advocacy drew her closer to the beauty of nature and the community. The training ushered her into positivity, follow-up engagements, connections, and networking.
As she heads on the advocacy journey after the step-down training, she flashes into the future empowered with knowledge, hope, and courage; forgetting the hopelessness in which she lived, drowned in a sea of the injustice served by society.
In our conversation with Yazid, she told us that she learned so much including; Digital Advocacy, Feminist leadership, how to appreciate the self, how to communicate with a community, how to expose the injustices, and how to set and defend women's rights. She also learned that women's rights are inherent; the knowledge she had used to ensure that women in the settlement enjoy their rights. The training moved her to relinquish all the powers of patriarchy and relish the energies to confront societies that hold the girls and women at ransom. Yazid yearns to see a refugee settlement where equity, equality, and justice are true birthrights to all women. Yazid has been conducting community dialogues, radio talk show creating awareness on GBV as she narrates in the video.