Empowering young Activistas with business skills for self-employment.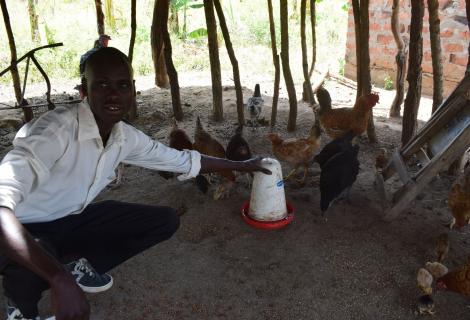 Emorut's success story.
Born in Acucu Village, Ngariam Parish, Palam sub-county in Katakwi district and from an impoverished family, Emorut Zadok never had a chance to enroll for a University course after scoring good grades at Uganda Advanced Certificate of Education level because his widowed mother could not afford to pay for University education. This did not however deter him from achieving his dreams.
Emorut belongs to the Activista group, one of the structures ActionAid uses to engage young people in Strengthening Struggles for Social Justice. Through this structure, Emorut was able to receive a training on business skills. It was after this training that he opted to start a poultry farm at his home.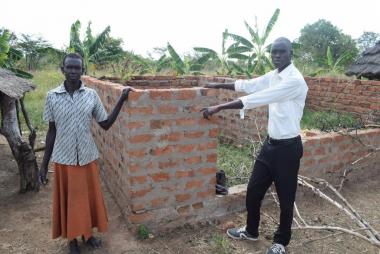 With only two local chicken in hand, the 24-year-old embarked on the poultry project in 2019. Gradually, the number of birds on his farm grew to over 300 and with that came an increase in income which he used to start constructing a permanent home for his mother and siblings.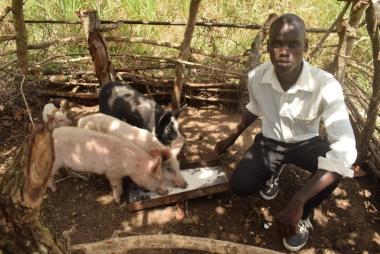 To expand and diversify his farming business, he also set up a pig sty in which he keeps Nine (9) pigs and a small vegetable garden in his compound.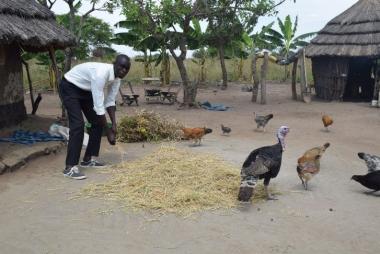 He made his first significant return on investment in the month of December 2020 when he sold 200 birds each at Ugx.12,000 earning him an income of Ugx.2,400,000. Emorut does marketing with ease since his customers are hotels, weddings, events, among others.
He has baked over 1000 bricks that he will use to put up a structure for the chicken, in hopes to further expand his Poultry farm and earn more from it because he wants to enroll for a Degree in Tourism at Kampala International University this year, 2021.
Two years down the road, Emorut does not lament about his mothers' failure to raise tuition for him but rather used it as an opportunity to grow income for bigger projects. He earns additional income from the sale of eggs and vegetables. His birds feed on free range while the pigs are fed on maize bran, peelings and grass, to cut costs.
"My mother and siblings can now afford three meals a day and I project earning from these projects in Millions. Thanks to ActionAid" Says Emorut.