How AAIU supported home schooling at the height of the COVID19 pandemic in Uganda.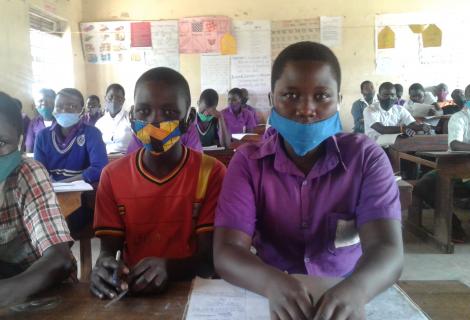 The COVID-19 Global Pandemic along with it's associated effects impacted negatively the economy, limiting access to education and increasing gender-based violence.
Even though schools are finally gradually opening up, the education sector in Uganda had been affected greatly. The closure of schools at the height of the pandemic led to increased cases of sexual and gender-based violence cases including teenage pregnancies among girls of school going age.

Following the closure of schools, the Honorable Minister of Education and Sports made a statement on distribution of home study materials. The ministry, through the National Curriculum Development Centre and the Uganda National Examination Board had developed self-study materials to help learners continue with their studying from home. However, the delivered materials were inadequate to benefit all children at both Primary and secondary school levels.
Local Governments with production of more copies of learning materials for over 2,400 children especially in  Primary schools.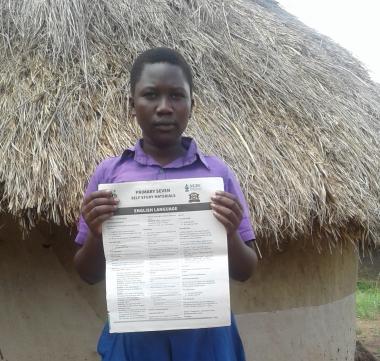 "My name is Barbra Adong; I am 15 years old in Primary Seven at Aparanga Primary School. I lived with my both parents named Irene Lanyero and Kenedy Ojok in Pajaa village, Pangora Parish, Anaka Sub County, Nwoya District. I am one of the children being supported by ActionAid International Uganda. 
I was very happy to be one of many children that benefitted from the self-study materials provided by ActionAid International Uganda. With schools shut, our studies were heavily disrupted. I personally, lacked the learning materials to use while at home since I had missed out on the ones distributed by the local government. I thank God that our school resumed with upper classes and I was able to sit for my finals- primary leaving Examinations on 31st March 2021. I expect to get a good grade.

Our school enforced a great level of hygiene and cleanliness to enable us to adhere to the set standard operating procedures to curb the spread of COVID-19.
I always endeavored to wear a facemask while I was at school and when visiting crowded places like the local market and hospitals. We also have handwashing facilities both in schools and at our homes to help us keep our hands germ free."