Overcoming extortion from a corrupt traditional justice system.
Rozeline's story.
There is an existing and unspoken conflict between statutory and customary law when it comes to land in Uganda. Statutory law provides greater protection for women, allowing for female inheritance and landownership.
Although it trumps customary law in theory, statutory law is less utilized in practice especially in rural communities where ignorance of statutory law is compounded by high illiteracy rates and inaccessibility to courts.
An estimated 80% of all land in Uganda is held under customary tenure and is regulated by customary rules which play a major role in determining women's land and housing rights. Although statutory law does not barwomen from owning property, the reality within which they live effectively denies them this right.

The population in Uganda especially in rural communities is deep rooted in traditional cultural values. There are many socio-cultural practices in rural Uganda that discriminate against women, discouraging them from owning land or sanctioning them for it. One of the most common beliefs in rural communities is that owning land brings power and that women having power disturbs social order, stability, and tranquility.
This therefore presents a dire need for organizations like AAIU to advocate for women's rights to land most especially in rural Uganda.
The story of Rozeline's journey through an unfair traditional justice system to regain ownership of her land is only but a piece of the bigger picture of the situation on women's land rights in Uganda.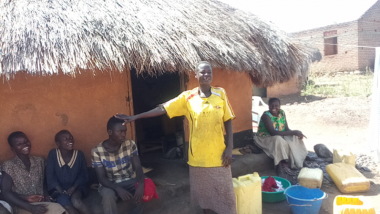 Rozeline is a 48-year-old-widow from Nebbi district and a mother of 6, (2 boys and 4 girls). To provide for her household, she is a peasant small scale farmer and a casual laborer who crushes stones at a quarry near her home for some money.
My late husband bought the land where our grass thatched houses sit. Since his passing, I had never been bothered by anyone about this land up until the Pawong clan traditional chief, who also happens to be my neighbor and brother-in-law, Nasur, informed me that my husband's relatives were alleging that I was a witch. He also informed me of their ploy to evict me and my children from our home.
At the start, I took this information as mere speculation and a baseless allegation.

This all happened in the year 2020, right around the timeCOVID-19 had been declared a pandemic and Uganda had been forced into a total lockdown to contain the spread of the virus.


In December 2020, I was suddenly invited to a clan meeting chaired by Nasur. During this meeting, it was declared that I was a witch and matters were made worse when one of my neighbors- Charles shared a story claiming that I was responsible for his child's sickness, while Nasur's wife claimed that I had tried to strangle her at night.
Consequently, Nasur and other congregants demanded that I pay Ugx.250,000 (USD.71) for them to consult a renown traditional healer on the possibility of me being a witch.


My neighbor later advised that I visit another traditional chief from Ocego chiefdom, where my piece of land is situated. The Chief I approached unfortunately asked me to offer him an assortment of items that included a goat, firewood, salt, and flour, amounting to a total ofUgx.500,000 (USD.142), in exchange for his help.


I struggled and managed to pay for the items because I thought this would be pave a way for me to get justice.
On making the payment, the chief from Ocego called for a sitting with Charles and Nasur to determine the matter but none of them showed up for the meeting.

 
Two months later, they both showed up without notice and abruptly called for a meeting before the Ocego Chief.
During this meeting, I was once again asked to pay a fee of Ugx.300,000 (USD.85) as consultation for a traditional healer who would assess me to make sure I was not a witch. To this, I said that I did not have any more money to spare. My response led all parties present, including the Ocego chief to make the conclusion that that I was indeed a witch since I had refused to pay for my assessment. They then ordered me to leave the meeting, have my belongings packed up and leave the community entirely.


That night time became a real life nightmare when my neighbor Charles showed up at my house with a mob chanting "Let us kill her, she is a witch!" I managed to escape for the night and was accommodated at the home of the Local Council chairperson of Kasuku village in Nebbi town. I had to leave my children behind, and they were sheltered by two of my neighbors.
The following day, I went back and was given only an hour to have all my property packed up and removed from a place me and my children had called home for the last 15 years. My neighbor Musa had tried to stand up for me against the elders, refuting their accusations against me. His plight to save me however fell on deaf ears so he did all he could and accompanied me to the nearest police station to report the case but we were advised to settle this matter amicably at chiefdom level. Opio then made a phone call to an acquaintance called David, who happened to know a psychosocial officer working with ActionAid Uganda and we spoke to him about my case. David told this officer of my case and inquired if the organization would be of any help to me. On approaching the ActionAid shelter, my children and I were warmly welcomed and accommodated for two days. I also received counselling services at no cost while at the shelter.
My perpetrators (the Ocego chief, my neighbor- Charles and my brother-in-law Nasur) were then sent invitation letters for a mediation session at the shelter. Although Nasur did not show up, he was represented by his wife and the other two perpetrators.
During the mediation, they were given counselling and warned not to disturb me as I had the right to live on that land. They apologized to me for the mistreatment and a Memorandum of Understanding was signed in the bid to hold them accountable. It stipulated that I re-possess my home and land and that the perpetrators or their agents would never disturb me over my property. I am now back at my home together with my
children and we are living peacefully.
Conclusion: Following the mediation by ActionAid, the perpetrators understood that it was wrong to evict Rozeline, a helpless widow who was lawfully occupying her land. They were sensitized about rights of widows and were made to realize that women's rights are protected under the statutory law by the constitution and that they would be held liable for any misconduct or unlawful doing.

Rozeline's rights to own property and livelihood were respected and fulfilled when she accessed her home and land. She can now cultivate her crops and work at the stone quarry to earn a living without being interrupted. She is resilient to any actual or perceived threats because she has confidence in the formal justice actors and was empowered with knowledge on where to report any threats of violation of her rights.

Traditional and cultural leaders often take for granted the ignorance of their subjects on statutory laws to extort money from them and conduct illegal hearings at community level.
This uncouth behavior is fueled by the lack of condemnation and the high illiteracy levels existing among communities in rural Uganda.