From vulnerability to adaptation: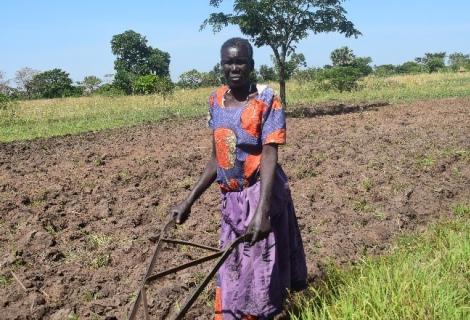 -The story of a resilient floods survivor.
Ocila Goda is a 70-year-old woman living in Apeleun Village in Katakwi District. She was widowed in 2003and left with the burden of taking care of 11dependents, some of whom were her grandchildren.
Goda, her children and grandchildren continue to experience multiple deprivations living in poverty. She has to trek nearly over 7Km to reach a near by health Centre to get medical attention for her hypertensive condition and works in people's farms for a sum of UGX.4000 (app 1.1 USD) in wages per day. In order to earn more, she has to work in two additional gardens.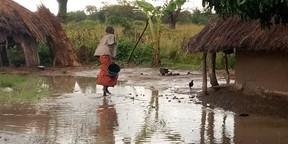 In 2019, Katakwi District was ravaged by one of the worst floods in the history of Uganda. The floods destroyed several acres of crop gardens, soaked up people's hats and houses, caused mudslides which cut off access to roads that led to health centers and other social services.

As a result of the floods, over 300 households in Katakwi were displaced, with some of the community members being exposed to disease, losing their lives and or those of their loved ones as a result of drowning in the water and mud.
Ngariam sub-county where Goda lives was one of the worst hit areas by this catastrophe. She lost crops, cattle, and her grass thatched houses collapsed. This pushed her to seek refuge at a nearby school with her family.

It was at that point that ActionAid came to her rescue. She received emergency relief support inform of food and non-food items and these included; Beans, Posho, Washing soap and a comprehensive dignity kit for her girl children who had been in urgent need of Sanitary Towels, Panties, Bathing Buckets and washing soap. These items cushioned her for a reasonable time even though it was obvious that she would need long term interventions.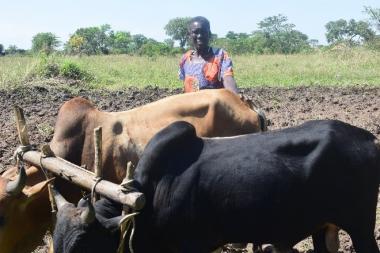 As part of the AAIU Climate Resilient Sustainable Agriculture (CSRA) model initiative, Goda was trained on Climate resilient agriculture practices which she adopted and implemented.

With the newly acquired knowledge, she was able to preserve plant materials (Seeds) awaiting the onset on the rains, dig water catchment areas to trap run off water, dig water channels to divert excess water from her gardens and compound, preparing her gardens for planting season. She also succeeded in integrating animal production in her farming and now uses the dung from her cows to make compost manure and improve plant vigor and soil fertility.

Unlike before, Goda is now able to control the level of vulnerability in the face of climate change and bounce back to the rhythm of life in case of another disaster.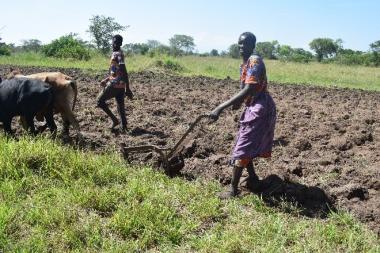 The photo shows Goda planting the seeds she had stored in a seed pot before planting. Unlike before when she lost all her seeds due to the floods, she is now able to save seed and continue production after disasters.

AAIU promotes seed banking as one of the climate resilience practices protecting and save plant genetic diversity. It also helps them save money since they can preserve seeds for the next planting season rather than buying.