From vulnerability to resilience.
The women of Imvepi refugee settlement- by Byaruhanga Frank , Digital Learning Inspirator
Female refugees have been disproportionately affected by the outbreak of COVID-19 in Uganda, living in densely populated conditions without government support. Yet, as this story indicates, their resilience is an inspiration to many others around the country.
Every Friday, Judith, a 23-year-old refugee and her friends get battle-ready. The team wear their facemasks and head out to the community where they volunteer alongside 20 other refugees to host women activists who conduct trainings on women's rights in the Imvepi settlement.

Despite sickness, hunger and lack of sleep, Judith and her team motivate themselves to get out and volunteer every chance they get.
"If I don't help women refugees, who will? The abuse that women are enduring in this settlement is a lot and the covid-19 outbreak shook the entire settlement," Judith says.
The resilience and resourcefulness of women like Judith and the women of COTA (Community Transformation Agenda)- a platform that provides Human rights and livelihood skills to refugee women, is on the rise.
Female refugees of Imvepi are not just fighting for equality, but together, have joined hands and are using the power of storytelling and virtual connection to raise awareness through online platforms to provide basic information to the women and men.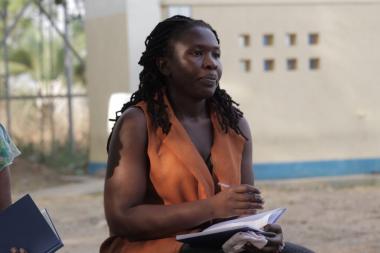 In a bid to empower refugee women in Imvepi , Asiimwe (21) along with 15 others took part in a youth-led humanitarian digital media training and storytelling. The team of 15 was led by Judith who used this training opportunity to empower young women with information on women's rights.

In the face of this unprecedented COVID-19 crisis which compounds existing challenges, these women continue to show resilience in their efforts to be the change they want to see in the world.

"Despite the everyday difficulties we are faced with, we continue to do what we do because we want to help young women," says Asiimwe.

These refugee women are the face of resilience. Unsupported, uncared for and yet undeterred. They are stepping up not just to help themselves but also to help other most vulnerable refugees in the settlement.