AAIU hosts conference on Women's Participation in transitional justice in the Great Lakes Region of Africa.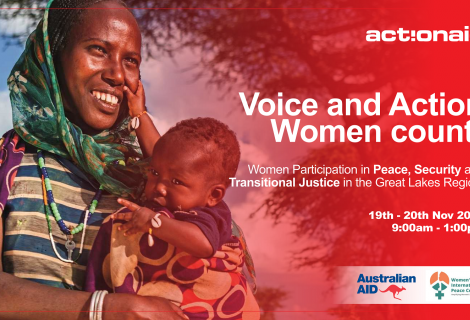 ActionAid International Uganda with support from ActionAid Australia hosted a two-day virtual conference on Women's Participation in Peace, Security and transitional justice in the great lakes' region. The conference was held via zoom on Thursday 19th and Friday 20th of November 2020 with the aim to discuss the proposals to strengthen the women's movement for Women's Peace and Justice Agenda in the Great Lakes region.

 
The conference was held virtually in an inclusive and participatory manner and brought together participants from the great lakes' region (i.e. Kenya, Tanzania, Uganda, Malawi, DR Congo, among others), women peace and security experts, networks, civil society organizations, young women's groups, Regional Institutions and Centers of Excellence.

During the conference, speakers deliberated on issues of the current crisis (corona virus pandemic) and its impact on society through the gender lens citing that the pandemic induced lockdown affected the women more in different ways ranging from increased Gender Based Violence and increased unpaid care work. 

The meeting also addressed issues of patriarchal practices and norms leading to male dominance and how they impede women's effective participation in women's peace and justice processes. 

Speakers made conclusive marks saying that there is need to be more intentional in applying an intersectionality lens in the approaches to cater for the practical and strategic need of women in our societies.