Stakeholders reflect on the obstacles of Women's access to land rights.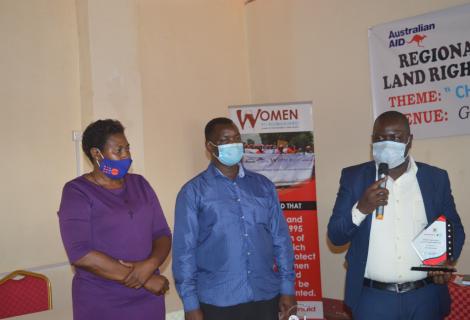 Despite the governing laws, women remain marginalized when it comes on land ownership in Uganda, but most especially dire in parts of Northern Uganda. It is based on this background that AAIU, through the Gulu district cluster hosted stakeholders in a dialogue and reflection on the state of Women Land Rights and Access to Justice in Northern Uganda.
The event took place on 5th March 20201 at the Global Friendship Hotel in commemoration of the International Women's Day under the theme "Choose to Challenge" with the overall objective to build stakeholders' commitment to strengthening women's access to justice. In attendance were stakeholders from women from the Gulu community, local government officials, district leadership, People with disabilities (PWDs) and staff of AAIU.
During the dialogue event, stakeholders discussed notable key milestones of the National Transitional Justice policy implementation in the role of addressing the needs of women in the Northern part of Uganda. In addition to this, the attendees also reflected on the challenges and key emerging issues regarding women's land rights protection while also deliberating on how best to strengthen access to justice for women and other vulnerable groups i.e. PWDs, in respect to their land rights protection and violence against them.
In his opening remarks, Hon. Michael Lakony (the district chairperson- Amuru), spoke to the existence of unfair marriage laws in Uganda as the reason for precipitating land injustices against women.
"We feel disappointed in our legislators because they continue to champion unrealistic bills like lifting presidential terms of office as opposed to prioritizing bills of national importance like Domestic Relations Bill and the Legal Aid Bill that would offer a sustainable women land rights protection and access to justice to women rooted within the law. That's why as Acholi people, the cultural institution had to make a pronouncement recently on lowering the cost of customary marriage –not exceeding 5M UGX to ensure that marriage is encouraged as a long term strategy for women land rights protection because the current law in its form does not offer protection to cohabits"
During his presentation, AAIU's project Legal Officer- Kevin Ouma shared his experience in responding to cases of violence against girls and women, underscoring the legal provision and frameworks that uphold and protect women land rights and the broader aspects of access to justice in Uganda.
He emphasized the need for strengthening the referral pathways among land actors and the need to engage experts in land registration as a long-term avenue to minimize disputes.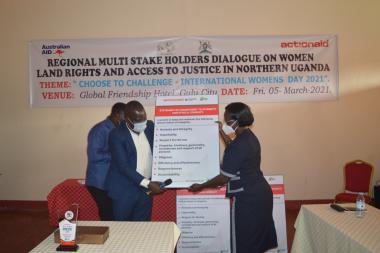 The event was crowned off with acknowledgment and recognition of winner of the National Integrity Awards for2020 for their roles in rendering social services and demonstrating exemplary leadership with high integrity.

This award session of the dialogue event was This award ceremony session was officiated by the Gulu Resident District Commissioner-Mr. Odong Latek, who recognized and handed over the awards to outstanding personalities i.e. Mr. Okullo Mercelleno- a former Head Teacher for St. Josephs College Layibi, Dr. Oyat Christopher- senior lecturer of Gulu University, Lanyero Joyce- District Education Officer (Amuru) and Akot Christine a Gender Specialist from Ministry of Gender Labor and Social Development.

In his closing remarks, Mr. Latek congratulated the Integrity award winners for their excellent performance in public service and said, this is a challenge and a call to all the participants to emulate for the betterment of the societies they serve.
He also extended special appreciation to AAIU for organizing the dialogue, placing emphasis on the need for justice to ensure equity in land rights and made a commitment to support AAIU advocacy initiatives on women's land rights.