ActionAid Champions Women Led Platform on Peace and Justice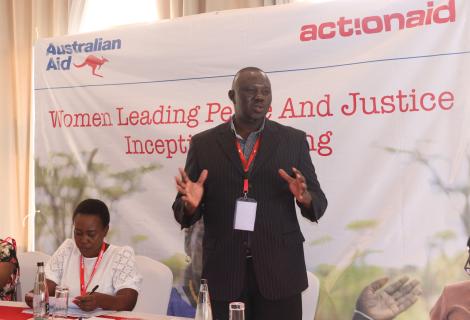 ActionAid International Uganda hosted a four-day Women Leading Peace and Justice Inception meeting in Kampala to plan for a women-led platform on peace and transitional justice in the great lakes. The event brought together women from the frontlines of war, ActionAid Country Directors, and program staff from Kenya, Uganda, DRC, Ethiopia, and Australia.
Carol Angir, the Senior Program Coordinator of ActionAid, Australia, said, "The platform will be a safe space led by African women to be able to organize, mobilize and strategize and work towards holding their countries accountable."
The meeting followed last year's Women for Peace and Justice summit in Nairobi, where participants resolved to form an African Women-led safe space through a well-resourced and well-governed platform.
Women from the frontlines who have experienced first-hand the effects of war in the great lakes were given a chance to share their stories of how the war has affected them. Familiar to most of them were stories of rape, abduction, and post-war stigma. The women called on different stakeholders to address the effects of war on women and children, primarily since war affects them the most.
The participants discussed practical ways to advance the platform. The General Secretary of ActionAid, Authur Larok, urged the women to embrace its leadership. Xavier Ejoyi, AAIU Country Director, further emphasized this.
"The vision of this platform is clear. It is an African women-led safe space to address the gaps that we have identified. If this vision is to be achieved, leadership needs to be forged by women who have lived the experiences," noted, Ejoyi.
Some of the critical issues covered were the platform's structure, fundraising opportunities, lessons learned, and personal stories of trauma.
The Women Leading Peace and Justice inception meeting builds on ActionAid's work on transitional justice for the past nine years.