COVID-19 induced Lockdown, a silent trigger to violation of women's land rights in rural communities.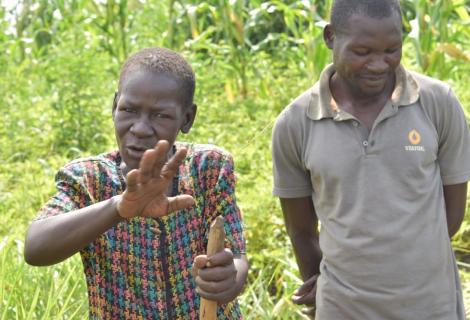 A story of Change.
Agnes (52), a widow and resident of Lapono village in Anaka Sub county Nwoya District, recounts her experiences and joyous memories of how they used to live without any disputes before the COVID-19 lockdown. 
Each family here including my own, had their own gardens and grazing areas for animals, which we respectfully observed. It was not until the month of April when I became a victim of land grab. Little did I know that my own brother-in-law's son would be my tormentor.
On 1st May 2020 a motorcycle rider in Gulu town returned to the village after about 17 years. Upon his return, he claimed Agnes' garden saying that the land belonged to his grandfather and he had the right to access it for use. Without any restraint, he cut down trees and cleared the land.
Agnes immediately reported her nephew to Anaka Police, for criminal trespass and threatening violence. He was summoned and later arrested on May 12th. From police, he was cautioned and later referred to the clan leaders owing to COVID-19 guidelines and regulations where suspects were not to be detained to avoid overcrowding in cells. Frustrated and disappointed with the outcome from police, Agnes had no option but to pursue other avenues in search for Justice.
On May 22nd, a mediation meeting was organized by the clan leaders and elders following the referral made by the police. Being a woman against men, the outcome was not favorable because Agnes was asked to give the land to her nephew, something she was not willing to do.
With very little hope, she lodged a formal suit before the Parish Local council court II of Pabali where she was told that courts were instructed to only mediate but not adjudicate because of COVID-19 induced restrictions by the government.
"With the shocking revelation on Local courts operations I thought I should give up since every means seemed impossible." Agnes narrates.
Later, Agnes learned of a paralegal trained by ActionAid. "Since he was more independent, I trusted him to mediate the case."
On June 25th, the paralegal called for a mediation meeting that had Agnes retain ownership and access of the land and the reported case at police was withdrawn. Justin, her nephew confessed that he had been forced by prevailing circumstances to do fight for this land even though Agnes was the rightful owner.
"I never planned to grab my mother's land and neither did I know that I would be pushed to the village the way I was, but all these happened because of the ban on boda boda operations which made life unbearable in town amidst the rising costs of living". Justin confesses.