Kapchorwa cluster hosts two-day convention on Women's rights.
AAIU through the Kapchorwa Cluster conducted a two days Women's Convention on Women Land Rights, Female Genital Mutilation (FGM) and other violations against Women and Girls. The convention brought together a total of 32 women of different ages, religions, professions and background.
This blend was considered important to build synergies with each other hence inspire other women and girls on livelihood, women rights and FGM.
The Women's Convention was geared at building a cadre of Women rights activists from Sebei Subregion to accord peer guidance and influence on other women regarding women rights hence lead to community acceptance and promotion of Women rights in all spheres of life.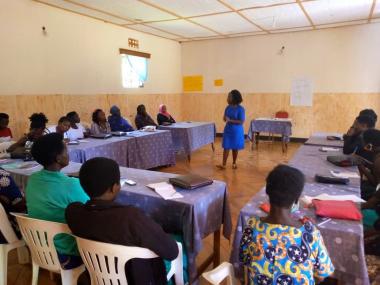 During the convention, participants were taken through a session on Women Economic Empowerment (WEE). Through use of participatory tools, Participants were equipped with knowledge and skills on economic empowerment. Knowledge enhancement on Women Land Rights was achieved through the Session on Women Land Rights.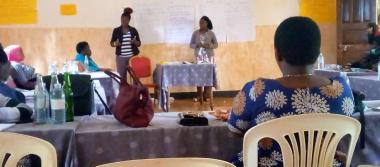 In order to safeguard the women and their daughters from the harmful practice of Female Genital Mutilation (FGM), a session was held with the aim to enable women to have a candid conversation on FGM, its negative effects and whether it is relevant in the 21st Century.
One of the highlights of this session was a story shared by one of the participants on her experience with her daughter regarding FGM.
According to the lady- Judith from Binyiny Sub-County in Kween District, her daughter was influenced by her peers to undergo FGM. Her daughter thus approached her thrice requesting to be initiated into FGM. Judith stood her ground and advised her daughter not to do it because she is a full woman even without undergoing FGM. Her daughter secured a good marriage and has daughters of her own for whom she has committed to safeguard from FGM.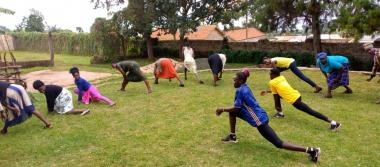 In addition to the above activities, participants had a session on self-care and exercise. All these were geared at building the Participants holistically so that they too can inspire other women within their circles.
Women's Convention Achievements.
20 young women present committed to stay away from FGM despite its cultural connotations.
Women shared their experiences on how Women Economic Empowerment improved their livelihood and family relationships which encouraged and inspired other women to start to engage in small businesses.
32 Women committed to share the knowledge and skills got at the convention with others so that they too can benefit and hence build an alliance of strong women seasoned to reject FGM and violation of their rights.