Movement Building against Land Grabbing.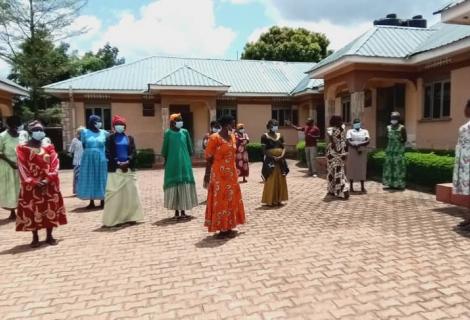 The empowerment of the Alebtong women through training.
ActionAid Uganda conducted a 3 day intensive training in movement building with the 20 women of the Alebtong women's network group against land grabbing in Lira District.
The training aimed at building capacity and strengthening the women with knowledge and skills of community organizing, nonviolent resistance, movement building and mobilization skills.  This activity directly feeds into the priority 3 (three) of the 5th ActionAid Uganda strategy paper which is "People's action for democratic governance" and further to strategic objective 3 which is "To strengthen citizen actions to deepen democracy and hold the state, corporations and political leaders accountable for social justice by 2022."
Dickens Otim and Bruce Mugisha from Action Alliance Introduced the Women to the basic concepts of nonviolent resistance, undoing ideology, power analysis, pillars of support, pluralistic advocacy, spectrum of allies and storytelling for social movements.  The women were practically involved in movement visioning games and taught practical ways on how to champion resistance against land grabbing in their communities using non-violent action strategies and were encouraged to train other women groups when they return to Albetong. The participants were taught how to get and handle allies, the women also shared their life stories and how they came to be part of the Alebtong group of women.
The women also shared their way forward with determination to plant trees to protect their land, cultivate their land, ask more young people to join in the struggle for the land and share what they have learnt in the training and also looked forward to engaging with ActionAid Uganda more.
In 2017, ActionAid partnered with Action Alliance under the Fair Green and Global project II, to support a community whose land had been grabbed by two brothers (Professor Tom and Professor William Boto) from the United states of America. Over 100 families in the community had been displaced from up to 5 square kilometers in Wei subcounty, Ajuri North, Alebtong District with support of the land grabbers from the district's leadership.
The land in question had been given to the government during Obote's regime as a quarantine/treatment center for animals before they could be taken for sell in their districts. However, between 1970-1979 the land was deserted thus the community members of Alebtong taking it up again and staying there until 2017 when the two brothers from the USA came back to claim that it was their land, without any written documents and throwing out women, men and children from their ancestral land.
It is against this background that ActionAid in partnership with Action Alliance trained over 100 women under the Alebtong women group network, building their capacity to resist land grabs and strengthen their knowledge on women land rights which skills they have used over the years to prevent the two brothers from stealing their land.