Reaching vulnerable women affected by the COVID19 lockdown with emergency relief.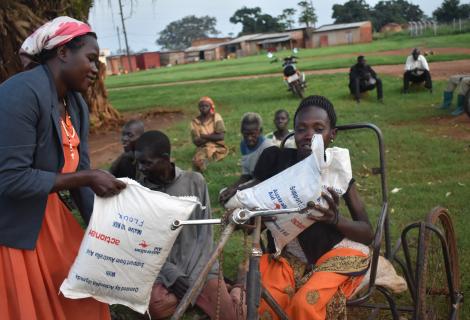 "For many years I earned my living from selling boiled cassava to Acet Primary School in Odek Sub County, Omoro District. With schools shut down since March as a result of corona virus, I used up all my savings. I lost the final bit in a burglary incident while away on a visit to my mothers' place. The thugs made off with USD 51.73(190.000/- shillings) along with the cereals I had bought in anticipation of the prolonged COVID-19 lockdown," says Joyce Aol, a widow and Person with Disability.
Aol's circumstance is one among many in Nwoya district that has seen rising crimes reported in rural communities.
In Anaka Sub County, 45 house breaking related cases were registered in June and July, affecting mainly the female headed households.  July of every year is widely known as a period for food scarcity in Northern Uganda since most crops are harvested in mid-August, a situation which was exacerbated by the COVID-19 induced lockdown in the country.
"A kilo of beans that cost 3,000–3,500 UGX before the COVID-19 restrictions at farm level is now sold at 4,000–5,000 UGX or more in the markets depending on the distance, quality and transport costs. The yellow variety of beans cost 6,000 UGX in Gulu town." Says Ocan Bosco, an extension agent in Nwoya District during the lockdown.
In Amuru District 3 people living with HIV/AIDs in Pabbo Town Council starved to death because of the lockdown. The deceased were identified as Mary Rockia, Jackson Otto and a one Okwonga, all residents of Pabbo Town Council.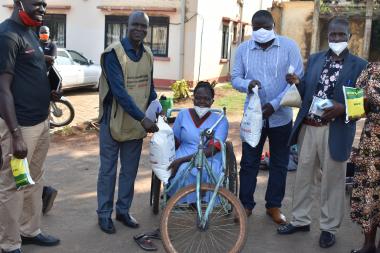 Bosco Opiro, the General Secretary at Oyab Wangwu Positive Person Association, said that the trio were part of the 470 persons living with HIV who were categorized as the most vulnerable in Pabbo town council.  He explains that the 3 members passed on after abandoning treatment due to lack of food during the lockdown.  Opiro notes that the deceased had been surviving on businesses, which were suspended as part of the measures to contain COVID-19 transmission. According to Opiro, they petitioned Amuru District Task Force asking for relief food to support the most vulnerable members of the association in vain.
The above situation called for AAIU's immediate intervention to provide emergency relief in form of food supplies to the HIV/AIDs affected and infected persons as well as a COVID-19 quarantine center amidst the resource constraints and overwhelming call for support to the disadvantaged population impacted by COVID-19.
AAIU then distributed food items to 75 persons affected by HIV/AIDs in Amuru district (50 women and 25 men). Overall, a total of 475 persons in Northern Uganda were supported with food relief, medical supplies and sanitary equipment through their local governments with funding from the Australian Aid.