Seed banking to diversify livelihoods and build community resilience during emergencies.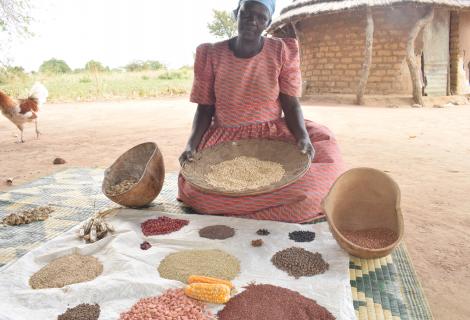 A story of Change.
Christine Otilem is a 49-year-old lady from Osudio village in Katakwi District and the seed bank manager of the Aipecitoi farmers group, supported by ActionAid.
Christine is one of the victims of the recent floods which had the Gardens submerged in water, crops rotting, and as a result, families experiencing hunger and starvation in Katakwi district. The situation worsened when the country was locked down to control the spread of the covid-19 pandemic which in turn led to reduced agricultural production since the communities could not access their farms or sell their produce.
 "When such times happen, farmers are terribly shocked for quite a while, can't think straight or make decisions since farming is our major source of livelihood". Christine narrates.
When all hope seemed lost, AAIU came through with trainings on seed preservation, and conservation which led the local farmers to establish a community managed seed bank. The main purpose was to preserve crop diversity, protect seeds from being affected by climate change for a couple of decades, and to increase farmers' access to quality material that is pest, disease and drought resistant.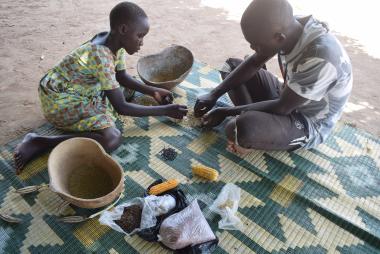 Christine narrates that before the trainings by AAIU, she bought seed from the open market every season and it costed her a lot of money.
"I used to spend Ush.10.000 (2.7 USD) on transport each time I went to buy seed since the agro input markets are far. The cost of maize was Ugx.4000 (1USD) per kilogram and I needed 5 kilograms to plant an acre. Sadly, I would harvest only a bag with that maize and yet the cost of production was high. This was too expensive for a small holder farmer like me.
With the coming of the seed bank, farmers collect, preserve and conserve indigenous seeds because these seeds have stood the test of time.
Last season, I planted 10kgs of traditional groundnuts in one acre and harvested 2 bags. Farmers appreciated the benefits of storing seed during the lockdown period. As a single mother, I have reduced costs on transport and the risk of buying fake seed. We are grateful to ActionAid for this support."