UNFPA-UNICEF Joint Program on the Elimination of Female Genital Mutilation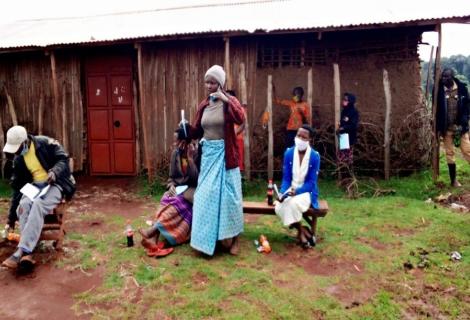 A story of Change.
Female Genital Mutilation (FGM) is one of the deep rooted cultural practices within the Sebei Sub Region in Uganda. Cultural leaders are the custodians of the culture, in regard to this ActionAid with financial support from UNFPA facilitated two quarterly engagement meetings with religious and cultural leaders on the Alternative Rite of Passage in all the three districts done in the same day on 24th July 2020.
In attendance were 47 participants (15Female and 32Male) of these, 28 were cultural leaders and 16 were religious leaders and 3 were the moderators. During the meeting, there was increased awareness and input to the Alternative Rite of Passage as a yardstick for nurturing and influencing progressive social norms, beliefs, and practices and these leaders reported on progress how they have supported communities. A total of 105 women and girls were supported.
I am Cherotich Aidah, a mother of three from Chibanda Village, Kwoti Parish, West Division in Kapchorwa Municipality in Kapchorwa District.  When I first heard of the UNFPA/ActionAid Uganda Female Genital Mutilation (FGM) Project, I was angry. This is because I thought that they were out to destroy our Sabiny Culture.
The Female Genital Mutilation (FGM) was a cherished rite of passage from childhood to adulthood. A lot of respect was bestowed to circumcised women a thing that is unpopular now. I was glad when I learnt about ActionAid Uganda popularization of an Alternative Rite of Passage other than FGM. An Alternative is important because it will still protect our culture, culture is important, it is what binds people together, it identifies them and controls their ethics. An alternative rite of passage is surely the way to go to ensure that the harmful FGM is done away with, but a positive alternative is in place to ensure continuity of our culture.
In a bid to further eliminate the practice of FGM, ActionAid with financial support from UNFPA also facilitated an 11 member FGM Surveillance team to conduct FGM Cross border Surveillance along Bukwo Suam border in eastern Uganda. The team was comprised of officials from Uganda Police, local community anti FGM activists.
AIP Wabwala Daniel is one of the Police officers who conducted the cross-border surveillance on FGM incidents in Riwo sub county and neighboring districts as well as West Pokot in Kenya. This was done with financial support from UNFPA and guidance from ActionAid Uganda.
AIP Wabwala elaborates shares his experience,
"I conducted surveillance on FGM and discovered that, FGM is still prominent in Bukwo District and is done in a hidden manner. I discovered from the Brim community that lack of schools forces girls to walk for very long distances in search of education. Many tire of this process and prefer marriage. The community pre-qualifier for marriage however is the need to undergo FGM. This forces many girls to undergo FGM.  
Through my surveillance, I met a well-known FGM Cutter in the district called, Kokop Chemusto who hails from Brim Village in Brim Parish. I had a candid conversation with her about her "work" and encouraged her to desist from initiating girls into FGM because it is no longer a valid practice. Later I was happy to learnt that she publically denounced her "work" of "cutting" girls.
Surely FGM harms the welfare of girls and women and should not be condoned. I pledge to continue with the surveillance and keep on recording any incidents of FGM in Bukwo especially now have been deployed to Kapnandi the border town council of Bukwo with Kenya by ActionAid Uganda who with financial support from UNFPA issued me with transport and airtime facilitation to effectively conduct surveillance within the community.
The adoption of a surveillance team was an innovative mode of ascertaining information from the communities on their thoughts and trends in regard to FGM. Subsequently, it was ascertained that, FGM is still going on and some community members are planning to conduct it in October and November 2020. In response ActionAid has scheduled for community meetings with these respective stakeholders.