Transforming communities through Climate Resilient and Sustainable livelihoods- A story of change.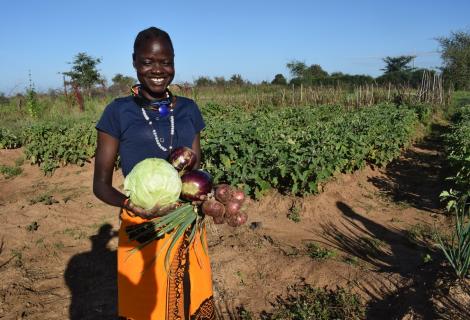 "I can now afford a nutritious meal of my choice for my household"
Kotido district in  North Eastern part of Uganda remains one of Uganda's poorest, largely dependent on cultivation and animal husbandry to provide livelihoods in an environment known for its harsh climatic variability because of the semi-arid nature and has been reliant on food aid for decades. Most women in their communities engage entirely on the unpaid care activities in their household and depend on their husbands to provide for their needs and that of the family as a whole.
Considering these challenges, ActionAid International Uganda rolled out Climate Resilience Sustainable Agriculture (CRSA) Model that ensured resilient production of food as a way of self- employment to 1,750 (1,090 females, 665 male) youth in both Kotido and Panyangara sub-counties. This is aimed at enabling them to build sustainable livelihoods suitable for their specific cultural, geographic, and social conditions. The CRSA roll out was preceded by the Training of Trainers in the first year of the project followed by its refresher at the community in the second year aimed at deepening practical knowledge and reaching more members of the communities. 25 CRSA groups were supported with assorted production inputs (Seeds; Vegetable seeds, ground nuts, Simsim, Cow peas and Sorghum, and farm tools; Watering cans, spades, pickaxes and wheeled carts) to set up demonstration sites.
Natyang Betty, who is 28 years, married to Lokwang with 3 children, a resident of Lokitelaebu Trading centre Kotido Sub County Kotido district is among the women who benefitted from the CRSA model under the European Union funded Youth Empowerment for Sustainable Self-employment and National Development (YESSEN) project. She explains the benefits of the support as follows;
"I am one of the many youths who benefited from the above trainings and embraced CRSA approach right from year 1 that made me to realize a bumper harvest of eggplants, onions, cabbages, and watermelon last year from seemingly bare soil. From my ¼ acre of vegetables, I was able to realize 1,850,000Ush (502 USD)"".  Nothing went to waste as i was quick to preserve my vegetables including onions leaves for the lean season by sun-drying.  I also harvested 14 bags of groundnuts, 1 bag of Simsim,1.5 bags of beans 1 bag of green gram,16 bags of sunflower seed, and 13 bags of sorghum.
"I can now afford a nutritious meal of my choice for my household, meet the medical bills and   my two children are in good boarding school, and this has all been possible because of new knowledge and skills from YESSEN Project". Exclaims Betty. 
Dismayed with the impact of COVID 19 on food security in Kotido, I used proceeds from my harvest and opened 12 acres of land by tractor and planted cassava and sorghum in equal portion. The hard work has made me become a model farmer emulated by most farmers in the district. My farms are strategically located along the main road, where many people both from the community and beyond always approach me to seek guidance on how to start their own. I save part of the proceeds in Village Savings and Loans Association (VSLA) that annually accumulate to 2.5 million. I am not only a crop farmer but has also diversified my livelihood with livestock, and by last year i had 09 cows, 03 donkeys, 05 pigs, 30 sheep, and 12 goats.
      "I encourage my group members to be focused and work hard in agricultural practices that ActionAid has introduced to us then we shall be living a better life like salary earners who just withdraw from their accounts", says Betty.
.