How Joyce's Visit to ActionAid's GBV Shelter Saved Her from Losing her Land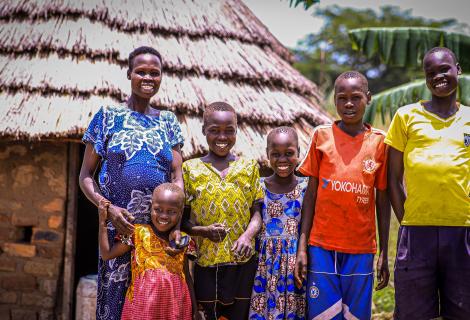 Five years ago, Joyce Akol, a 35-year-old mother of five, was living comfortably in Katawi district with her family. By rural standards, she had made it. Some of their properties included nine gardens and a permanent rental house at the trading center.
However, her life suddenly changed when her husband died in 2018. Her in-laws, who were silently eying her land, pounced on it and took it from her.
"They took my property, including land," explains Akol.
With five children to look after, Akol was left in unimaginable distress. At the same time, she was still dealing with the trauma of losing her husband. This combination led to depression, which threatened her and her children.
"I used to sit in front of my house without shoes and cry. I thought of committing Suicide or abandoning my children," recalls Akol.
A local council leader who heard about Akol's dilemma advised her to seek help from ActionAid's Gender-Based Violence shelter in Katakwi. Her decision to visit ActionAid's office marked the beginning of hope for Akol.
"When Joyce came to the shelter, we called her in-laws and organized mediation meetings. The first mediation meeting did not yield results, but eventually, Akol's relatives agreed to return her property. This was after we advised them on women's rights, including the right to own land and property," explains Sarah Agiro, a psychosocial support officer at ActionAid International Uganda, based in Katakwi.
With the acquisition of the land, Akol has been able to take care of all her family's needs.
"I have grown potatoes and other foodstuffs in the gardens, which have been used to feed my family. I have used the money from our rental at the trading center to pay school fees for my children," says Akol.
Indeed, when you observe Akol interacting with her children, it is all smiles. Their tears have been wiped away, and hope fills their faces. Her children are a joy to interact with. At the slightest joke, they all flash generous smiles.
For Agiro, it fills her up with Joy as she talks about the transformation that has happened in Akol's life due to the help she received in reclaiming her land.
"I feel so good when I see people get back their land because it helps them to fight food insecurity at home. It rewards me because I know this woman can fight poverty on her own. Women have the right to own land and property," says Agiro.