AAIU and partners launch activities to commemorate the Anticorruption week.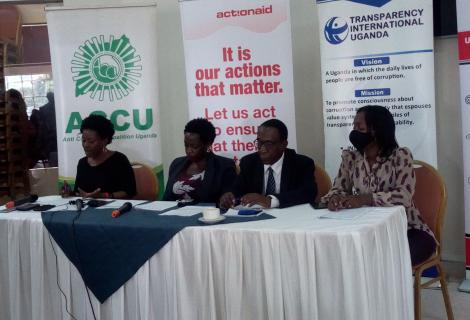 AAIU partnered with four other Antigraft Civil Society Organizations (CSOs) to host a press conference in commemoration of the International anti-corruption day. 
The press conference that was held on Monday 23rd November 2020 at Fairway Hotel featured representatives from the Anticorruption Coalition Uganda (ACCU), Transparency International Uganda (TIU), Uganda Debt Network (UDN) and Parliamentary Watch, with support from the Democratic Governance Facility (DGF).  

The event aimed to launch a line-up of activities scheduled for the Anticorruption week which will take place from 7th to 11th December 2020 and these include the national and regional Anti-Corruption Conventions, Integrity Awards to recognize some of the most outstanding members of society and their roles in the fight against corruption. 

During the week, a series of media engagements shall also be held to remind ourselves of the struggle we are in with the fight against corruption. High level dialogues with Government Anti-Corruption Agencies in Uganda will also be held.

Anti-Graft Civil Society Organizations (CSOs), in a press statement at the conference commended government efforts towards fighting corruption including establishing a strong legal and institutional framework, making reforms in management of public funds, improving communication and feedback mechanisms with citizens and prosecution of the corrupt at national and local level, among others.
But also acknowledged that corruption is still very much alive in Uganda's systems, citing the example of people in government that have taken advantage of the Covid-19 pandemic to escalate corruption. 

"We have on our hands more than sh8 trillion yet to be accounted for as funds used in the fight against Covid-19, the Government Procurement Portal is yet to be used for the purpose of disclosing procurement information and an IGG is yet to be appointed after the exit of Justice Mulyagonja in October 2019 to the Court of Appeal. Politics have been highly commercialized, and the State is yet to pronounce itself on this matter as well." Read the press statement.
  
The CSOs therefore demanded that more rigorous measures and put in place to fight corruption, making the following calls to action.
a.    Enhance the budgets and funding of the Inspectorate of Government (IG), Anti- Corruption Department and other agencies to enable them to effectively investigate corruption and other related offences. 
b.    Reinstate the requirement for leaders to declare wealth held and owned by their spouses and children under the Leadership Code Act, 2002 (as amended) to make it easy to trace and recover assets obtained using proceeds from corruption. 
c.    Adopt a non-conviction-based asset recovery regime. Conviction based asset recovery imposes an unrealistic and unreasonably high degree of proof on the prosecution and makes it difficult to recover property obtained using proceeds of corruption. 
d.    Urgently introduce a comprehensive witness protection legal and institutional framework for the enhanced protection of witnesses and informers in the context of investigation and prosecution of anti-corruption cases.