AAIU Country Director and CSO Leaders launch the National Election Watch Uganda (NEW-U)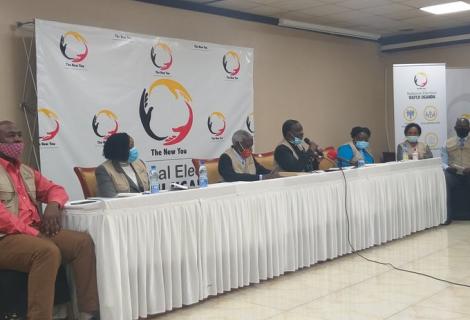 On 10th September 2020, ActionAid International Uganda Country Director and other Civil Society leaders jointly launched the National Election Watch Uganda (NEW-U) – a domestic election observation initiative ahead of the February 2021 general elections. NEW-U is a consortium of 60 Ugandan civil society organizations that seek to collectively engage in election observation, build citizens' structures in collaborating with other election stakeholders. Through observation, NEW-U seeks to promote electoral integrity, enhance citizen confidence and participation, mitigate potential violence and build sustainable civil society structures for election observation.
Giving a keynote address during the launch, Retired Chief Justice and Chair of the Elders Forum for promoting national dialogue, Justice James Ogola commended the civil society organizations for this initiative. He noted that "the need for domestic election observers had become immensely relevant and utterly necessary" especially in the context of COVID-19 that will impose restrictions on participation in the current election cycle.
NEW-U will train and deploy 135 long term observers and 800 short term observes in all the 135 districts of Uganda. Observers will be drawn from member organizations, network of citizen observers and highly trained network of professional observers who will generate data to determine the credibility, freeness and fairness of the elections. All observers will sign a Code of Conduct to protect the credibility of the NEW-U Observation Mission. The observation will focus on seven thematic areas namely: gender and women participation in elections, youth and elections, persons with disabilities participation in elections, money and campaign financing, media and ICT in elections, peace and security, and human rights in elections.
The launch of the domestic election observation group comes at a time when the government and Electoral Commission insist on holding the elections amidst the current COVID-19 restrictions. Meanwhile other stakeholders including opposition political parties and sections of civil society have expressed serious concerns regarding the suboptimal conditions under which the elections will be held. ActionAid International Uganda will align its civic and elections engagement with the NEW-U.