Civil Society asks Parliament to fast track the tax amendment bills for 2020/2021.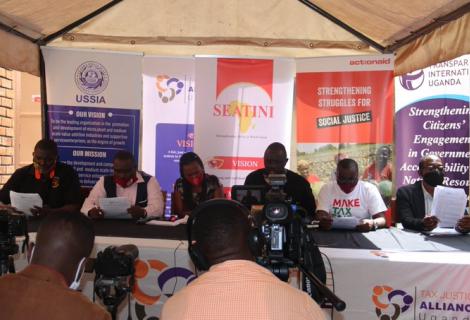 Civil society organizations (CSO) under the Tax Justice Alliance Uganda (TJAU) held a press conference on the 19th day of October 2020 at Southern and Eastern Africa Trade, Information and Negotiations Institute (SEATINI) Uganda offices to call upon members of parliament to pass the tax amendments bill for the Financial Year 2020/21. The press conference brought together representatives from the CSOs from ActionAid, Water Governance Institute, CSBAG, Transparency International Uganda, Oxfam and SEATINI. The press statement was read by Xavier Ejoyi the Country director-AAIU with other CSOs adding remarks and addressing issues that were raised from the audience.
The press conference was important because the parliament has delayed passing tax bills which the government committed to put in place as measures to address the arising impact of COVID-19 and lock down to the social and economic outlook of the country. Due to the delayed passing of the Tax bills, URA is currently enforcing the law as it stands.
The failure to pass the bills negatively impacted businesses which have had to incur expenses towards Pay As You Earn (PAYE), Corporate Income  Tax  and Interest on penalties, despite their deferral and suspension. This has strapped businesses of the cash that was much needed for their revival amidst the COVID 19 pandemic.
Although Uganda Revenue Authority has been registering a surplus of shs.278 billion in the revenue collected during this FY 2020/21, it is worth noting that URA will have to refund some of the money to the taxpayers after the proposed bills have been passed into law. This is likely to negatively impact the future revenue targets during the current financial year.
Civil Society Organizations under the alliance requested that the Parliament heed to the concerns raised  above and  with immediate  effect, discuss the tax  bills and forward  them to the President for his ascent. This will go a long way in ensuring that there is a fair, just and accountable tax system in Uganda.