AAIU calls for inclusion of persons with disabilities in COVID19 response.
The COVID-19 pandemic in the first half year of its existence disproportionately impacted the lives of Persons With Disabilities (PWDs) since they encompass a variety of conditions and impairment. Uganda confirmed its first case on the 13thof March 2020 and immediately, the president H.E Yoweri Museveni Kaguta ordered for a total lockdown that saw the airport, boarders, schools, shops, markets, and other businesses closed.
The lockdown led to the formation of task forces at national, district and sub-county levels and they were responsible for case management, surveillance, health promotions, resource mobilization and ensure continue basic service delivery.
However, the taskforces did not have representatives of PWDs, in West Acholi and this left them sidelined. PWDs in the region then started to deal with increased health challenges, exacerbated threats to their security, societal marginalization that negatively impacted nearly every facet of their lives, living in extreme poverty with little or nothing to feed on. They were also considered so much at risk of attracting the deadly COVID-19 because some of them used their hands for mobility yet they could not afford to sanitize their hands, the deaf and the blind too did not have access to vital information about the deadly virus.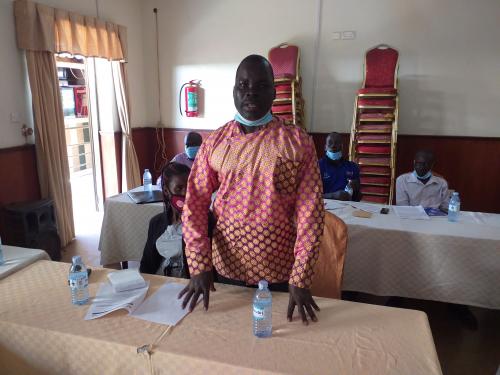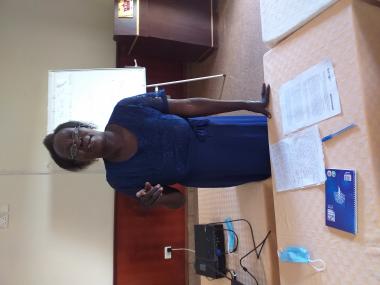 With that reference, Hon. Aciro Teddy Luwar(Chairperson for women with disability for the districts of Gulu, Nwoya, Amuru, and Omoro) and Hon.Lakwonyero Denis Ocen (Councilor V for PWDs Guludistrict) during the "interface meeting with PWDsand Social Services Standing Committed andHealth to influence inclusiveness in COVID-19response planning" testified that although disability inclusion efforts have started to gain momentum, AAIU-Gulu Cluster supported the PWDs greatly at the peak of COVID-19 era by identifying 100 PWDs in Nwoya district, 98 PWDs in Gulu district and 100PWDs in Omoro district who were later on supported with food items such as rice, beans, flour, and cooking oil and with jerrycans, blankets and hand washing facilities among others (jerrycans fitted with taps)
Out of the 280 PWDs supported, 72 of them are living with HIV/AIDS and did not even have access to health services to receive their ARV as scheduled.

This support from AAIU-Gulu Cluster impacted greatly the lives of PWDs by increasing their daily earnings and labor productivity, improving their individual and family wellbeing, reduction in cases of Gender Based  Violence, improvement in their health, more inclusion and accessible public institution such as hospitals, among others.

In their conclusion, they requested AAIU to continue supporting PWDs with sustainable livelihood project and advocating for the inclusion into the district budgeting and planning committee.