Officials Honoured at National Citizens Integrity Awards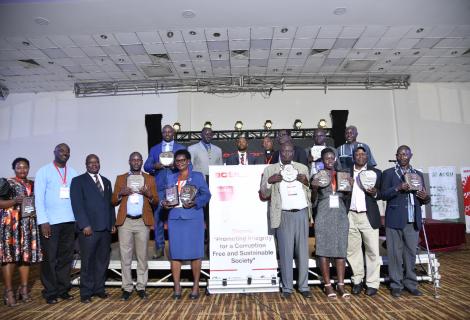 By Andrew Onapito
The highly anticipated National Citizens Integrity Awards took place on 11 July 2023. The day was chosen because of its significance as the Africa Anti-Corruption Day. During the ceremony, winners in the different categories were recognized and celebrated for their distinguished example as men and women of integrity.
Professor Waswa Balunywa, renowned for his long-term service as the principal of Makerere University Business School, emerged as the winner in the management obligation and overall winner of this year's integrity awards. 
The winner in the frontline services category was Dr. Morris Ocwedda, a seasoned retired Veterinary Surgeon with vast experience in rural extension services based in Zombo.
At the same time, Hon. Andrew Baryayanga Aja won the political obligation. In the 9th Parliament, he served on the Committee on Commissions, State Authorities & State Enterprises, and the Committee on Natural Resources, where he challenged the Inspector General of Government (IGG) inquiry on the Karuma hydropower project in the constitutional court. As a result, tariff prices were lowered, and the local citizens benefited from the national grid. 
Speaking at the event, Xavier Ejoyi, the Country Director of ActionAid International Uganda, highlighted the role of the citizens in the awarding process. 
"It is not ActionAid or its partners who have recognized you. Citizens have recognized you. That is why we call this event the National Citizens Integrity Awards. It is the citizens who know that there is a public official in every pothole, every poor service delivered, and every poor social service delivered," said Ejoyi.
This year's awards were highly competitive, with about 674 people being nominated. Other notable winners were Hon Hellen Adoa, the minister of state for fisheries, and Edith, a midwife who bagged awards for outstanding performances.