ACTIONAID UGANDA SUPPORTS CHILDREN WITH SELF-STUDY MATERIALS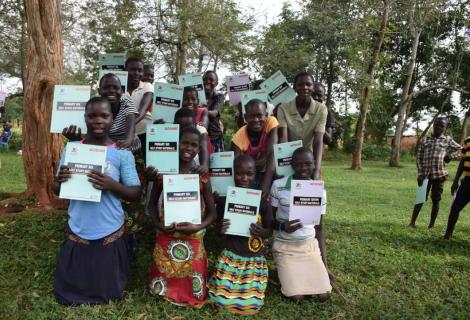 COVID19, beyond being a health issue, has affected the socio-economic being of people especially the poor and vulnerable. One of the emerging issues is the impact on education and child rights. The  presidential directives and the resultant closing of schools since March 2020 locked-up children with their abusers in homes with no escape routes, which have mostly been schools. The homes have become dangerous traps for violence and abuse of child rights.
Over 283 Child violence cases were reported to the national child helpline (MoGLSD) in a period of less than one month and yet many more go unreported. 
Despite government emphasis on remote learning through self-study materials, television and radios, children especially in rural communities have no access to such. Most households have no TVs or radio set and even those that have, children are not given opportunity to use them.
During the children meetings supported by ActionAid in Pallisa and Namutumba districts, children raised concerns of being engaged in domestic work with no time to study, no access to radio and even those that had the chance to study, barely understood the lessons.
Every 2 in 5 children reported that a friend or sister had been either married off or pregnant during the lockdown of schools.
'7 of  my friends are pregnant and one has been married off to my uncle by her parents, for a total of Ugx.700,000=, it pains me because she was my friend and now, my uncle's wife,' said Dorine (a primary 6 pupil St Claire Ivukula primary school), as she painfully narrates her experience.
ActionAid Uganda has continued to organise children dialogues to build the capacity and confidence of children especially the girl-child to not only resist any form of abuse, but also report cases of child abuse to the authorities. AAU continues to work closely with district authorities to create child rights through FM stations and community radios while also responding to child abuse cases.
In Namutumba, children have reported 3 cases of early marriages which are being investigated by police. ActionAid also supported 3050 children in Primary six and seven with self-study materials to help them continue learning at home even with schools closed. In Kumi, ActionAid supported 973 HHs with seed to boost food and income security for HHs affected by COVID-19.